Fishing in Vancouver Island: All You Need to Know
---
Reading Time:
7
minutes
It's hard to count how many anglers have Vancouver Island on their bucket list. Of course, there's a good reason for that. It's home to some of the best sport fishing in Canada. There's beautiful wilderness and untamed waters, ideal for both fresh and saltwater enthusiasts. Fishing in Vancouver Island draws anglers not only from Canada, but from all over the world. 
The Island stretches 290 miles, offering anything from Albacore Tuna and Halibut on the west coast to Pacific Salmon and Steelhead in the lakes and rivers. Whatever fishing adventure you have in mind, Vancouver Island has it. Fishing resorts and lodges? There's plenty. Islands and a beautiful coastline? You got it.
In this guide, we've tried to cover everything you need to know about fishing in Vancouver Island. You'll learn about the most interesting species to land, the best spots to visit, the most popular techniques to try, and everything else inbetween. Let's dive in…
Top Species in Vancouver Island 
The most popular catches in Vancouver Island are Salmon and Halibut, giving you the best of both worlds. There are, of course, more fish in the sea. You have Lingcod lurking in the depths, accompanied by Crab. And that's not to mention everything that Vancouver Island's rivers and lakes have to offer. It wasn't easy to narrow down a list of top catches!
Salmon
The Island is home to no less than five species of Salmon, with "Tyee" Chinook being the absolute king of the local waters. Some anglers head to Nootka Sound and Esperanza Inlet from May to September to reel in Chinook and Coho Salmon, while others enjoy their trophy Salmon fishing in Tofino and the Campbell River, the so-called "Salmon Capital of the World."
The season begins with the annual mass migration of Chinooks, when they pass by the west coast on their way to the Pacific Northwest. Coho join in August, concentrating on feeding in the shallow waters. 
Pacific Salmon fishing is strictly regulated in British Columbia, aiming to keep a healthy population for future generations. It's always a good idea to read all the necessary regulations before you hit the waters to search for your Salmon. 
Halibut
It's absolutely impossible to visit the west coast of Vancouver Island and not fish for Halibut. Everyone knows that it's a mecca for Halibut fishing, especially if you decide to hit Tofino or the Island's northern tip through the spring and summer months. 
Why is Halibut fishing in Vancouver Island so popular? Well, for many reasons. First of all, the area is abundant with big "Chicken" Halibut, weighing anywhere from 15–35 pounds. Secondly, these fish are fun to catch. And finally, they're blessed with incredibly tasty meat. 
Lingcod
Now that we're done with Salmon and Halibut, it's time to mention another highly prized Vancouver Island catch – Lingcod. They might not be the prettiest fish around, but their delicate meat is one of the reasons why anglers love fishing for them. 
Lingcod are abundant in Vancouver Island, attracting anglers with their great fights and impressive sizes. They're usually found in deeper waters, hiding amongst underwater ledges and rocky areas. A lot of locals and visitors head to the northwestern shore, looking for Lingcod in Kyuquot Sound. 
…And More!
As we mentioned before, there are a lot of fish to keep you busy all year round. When you're done with Salmon and Halibut, cast a line in the lakes and rivers for various Trout (Rainbow and Cutthroat, Brook, Brown, and Steelhead), Dolly Varden, Salmon, Bass, and Charr. Once you're done with these, too, try your luck at catching Pacific Rockfish near bottom structure or Albacore Tuna and Dungeness Crab, among other species. Who knows what else you might find at the end of your fishing line?
Top Spots in Vancouver Island
Even if you have a list of your desirable catches, it's not easy to know where to start your Vancouver Island fishing adventure. It's surrounded by the ocean, and boasts hundreds of rivers and lakes. In the end, it all depends on what fishing experience you have in mind. 
Northern Vancouver Island
The northern end of Vancouver Island is all about the Salmon and Halibut season, plus Albacore Tuna as a late summer bonus. If you plan to visit this part of the Island, we recommend booking one of the local lodges. 
Kyuquot, Port Hardy, and Winter Harbour are among the best places to fish on Northern Vancouver Island. If you're planning a trip to some of the most remote locations on Vancouver Island, it's worth spending a few days to enjoy everything this area has to offer. 
Central Vancouver Island
Campbell River, the "Salmon Capital of the World," is located on the central eastern shore of the Island. It's not the only place to visit in Central Vancouver Island, though. On the opposite side of the island is Nootka Sound, another interesting place for summer Chinook fishing. 
West Coast 
The west coast of Vancouver Island is home to the Pacific Rim, near Tofino, Ucluelet, and Port Alberni. It's where millions of Chinook pass every year on their way to the spawning grounds. Some anglers even prefer the Pacific Rim to Campbell River. 
Southern Vancouver Island
The south of Vancouver Island is where winter anglers spend their favorite season, but that's not all. There's a year-round fishing season for Salmon and Halibut from Ladysmith and Sooke to Port Renfrew. Locals enjoy their Salmon and Halibut fishing out of Victoria, British Columbia's capital city. 
Freshwater Fishing
A lot of towns offer amazing freshwater fishing in Vancouver Island, although adventurers can seek out mountain lakes and numerous streams in the wilderness. You already know what's on the freshwater menu, the only thing left is to pick the best spot. 
The Stamp and Somass Rivers are the places to go for Salmon fishing. Sockeye are the first Salmon to make their way through Alberni Inlet, followed by Chinook and Coho in fall. In winter, you can also catch Steelhead in the Stamp River, while Rainbows and Cutthroat Trout are available all year round. 
Finally, there's the Cowichan River on the south end of Vancouver Island. Locals call it the "Fly Fishing Capital of Canada," with multiple Steelhead, Coho, and Trout runs available for anglers. 
Types of Fishing in Vancouver Island
With freshwater and saltwater fishing opportunities on the menu, anglers can try their hand at various angling techniques. Depending on which adventure you have in mind, you can book a multi-day charter and stay in one of the lodges or pack your fly fishing gear and cast a line in one of the rivers with a local guide. 
Below, we'll list three of the most popular fishing techniques that can help you land your own Salmon, Halibut, or anything else from your Vancouver Island bucket list. The best part is that there are a lot of fishing charters and local guides that can show you how and where to catch a trophy. 
Trolling
Vancouver Island Salmon fishing trips are mostly done by trolling. Anglers use various baits, including "hoochies," which are squid-like lures, along with spoons, anchovies, and bucktail flies. These are especially popular on the west coast while targeting Coho Salmon. There's a special technique called bucktailing, which combines fly fishing with trolling. Another popular BC trolling method is dragging a line at a 45-degree angle a few feet from the bottom of your chosen fishery. This is called mooching.
Bottom Fishing
This pretty straight-forward technique is popular in Vancouver Island, although we can't say it's very easy. The success of your bottom fishing trip depends on several factors, including which type of bottom you'll be working with.  
Bottom fishing in Vancouver Island is used for targeting Halibut, Lingcod, and Pacific Rockfish, mostly offshore. There are different types of baits used to land these fish, including jigs, hoochies, and even Octopus. In fact, you can even catch an accidental Halibut while slow trolling for Salmon.  
Fly Fishing
Fly fishing in Vancouver Island is mostly reserved for freshwater fishing. This method works best if you're planning a unique experience catching Trout, Steelhead, and Salmon in one of the rivers. 
Anglers who are planning to fish the remote waters of the Island are recommended to book a guided trip with a professional fly fishing guide. Even the most experienced fly fishermen may need local experience and knowledge to make sure their hunt for Salmon and Trout is successful.
Rules And Regulations
All anglers aged 16 and older should buy a fishing license before they hit Vancouver Island's waters. Even if you're booking a fishing charter, they don't provide licenses for their customers. 
There are a few options available for purchase. Visitors can get a single day "Tidal Waters" license or a single day freshwater permit online, along with special tags for certain types of fish. 
Depending on the season and species, you may not be able to keep your catch. It's important to learn about local regulations ahead of time, which you can easily do online.
Fishing in Vancouver Island: BC's Finest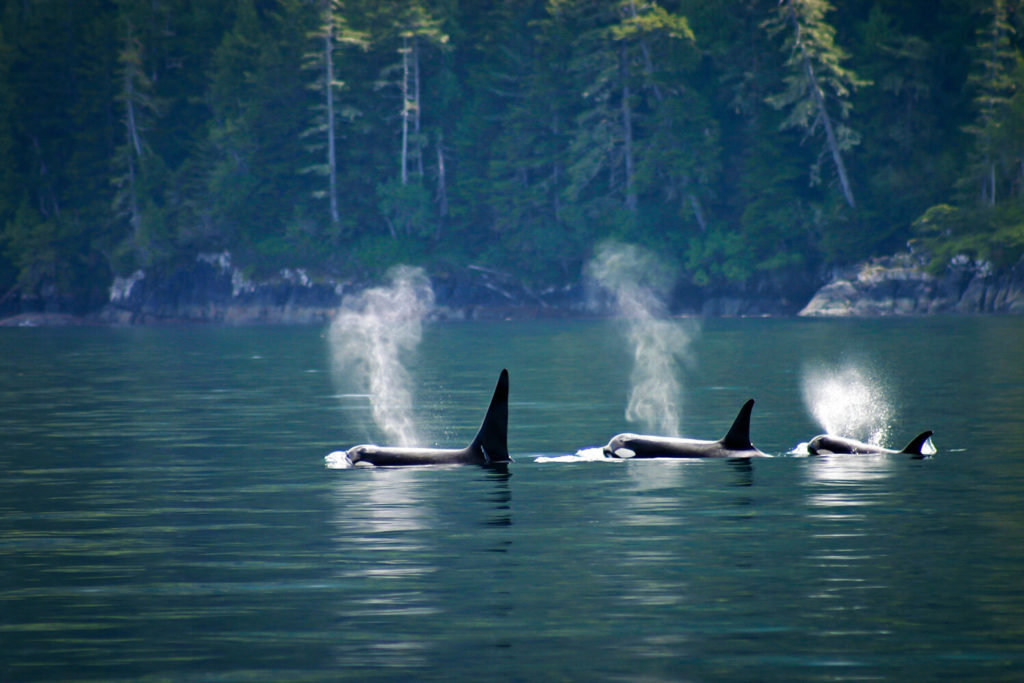 Saltwater and freshwater anglers will surely be pretty busy in Vancouver Island throughout the year. There's incredibly rich biodiversity, with plenty of fish, orcas, humpback whales, seals, dolphins, sea-lions, and porpoises. Here, you can combine the best of both worlds – the mighty Pacific Ocean, remote rivers, and calm lakes. Fishing in Vancouver Island is all about endless opportunities, even for the most ambitious angler. Come and experience it yourself!
Have you fished in Vancouver Island? Where do you like to fish the most? What are your favorite catches? Share your stories and tips with us in the comments below.
---
Featured on FishingBooker.com
Book Your Gulf of Mexico Charter